Buy the ICM Facts of War CD here
ICM Records Presents: FACTS OF WAR
This is a deep record of protest, using the lyrical gift and sounds of hip hop to spread truth and reality… to stand behind victims of war… and to provide hope. I feel grateful to these cats (who produce out of Montreal by the way), for making this record, because they say everything… they say it all. From the facts about America's "DUI- Dictator Under the Influence" to the twisted pain and anger that results in a "Child of War." They remind me that the war is not over, and that there is still a powerful movement out there calling for an end. We are not alone.
This album sounds good, because it is good. A big collaboration of ICM record's obviously talented artists who you will come to know as: LoKey, Euphrates, June Sixth, Memo, Bailey, Belle, Velvet Trench Vibes, Second Thought, Malicious, D-Shade, Meta4ce, Groundwerks, Manchilde, and Rhythmicru.
I can't stress enough how valuable this record will be to your collection. As a record and as a piece of history, (I wouldn't say it if I didn't mean it): It is important that you own this album that represents the stories of our time. Just listen, it speaks for itself.
THANK YOU ICM (Island City Monsters). FACTS OF WAR is a masterpiece.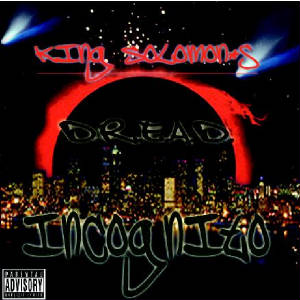 King Solomon's D.R.E.A.D. Incognito... I think you guys are going to love this album. I have had it in my disk-man for over a week now and that's impressive considering that I have ADDfM: Attention Deficit Disorder for Music. But discovering this album is kind of a pride thing. If you do cop it you're pretty much guaranteed that select feeling of being up on the hottest hip hop ish that most people may never have heard of yet. Emphasis on YET.
He's basically from Seattle, thus got the Northwest vibe, yet records in places like Houston (big ups), so there is a twist of Southern flavour too. The result is a unique sound that definitely resonates with some powerful hip hop influences. What I love more specifically: well everything basically. He is really playful with his voice fine-tuning it into a wicked rap instrument in it's own right. The music is dynamic and the heavy, floescent baselines are sway worthy while the beats are head knock worthy too. He has interesting lyrics and makes catchy hooks an art form. Most importantly the album contains way more than one hot song, and even though the songs are all likeable> they don't all sound the same. Big props for your creativity and excellence on this album D.R.E.A.D. (co-produced his own album with producer G-MAN, both representing the dope skillz of InsanAsylum Productions'). My favorite songs: "Whaddup?" "Fantasy" feat. Livonnia Garcia, Big Chad, HITONE "DREAD Lox" feat. Livonnia Garcia & "Act Like Dey Know" (yea, I know… there really are a lot of them!) … oh and as a frame of reference for your listening tastes, if you like KRS-ONE and/or KOOL KIETH… he's on that level. -theurbanmaiden
Have a look at the Big Quarters WebSite
Another Review by theurbanmaiden:
EPL & Snakebird
From Minnesota ay'… ?! Alright, I'm feeling it.
My impression after the first three songs was that this is the type of sick' music one listens to on late night radio stations- really late. When the shadows cast by street lights outside your window start dancing in your head, and you get that second wind- you wanna' keep the vibe going on in your head phones. You throw a dark hoody and some kicks on and walk out where the streets are deserted by all but the shadiest. Yea. It is such a REAL hip hop album, hard- but not negative. And it get's better and better as you let the tracks slide. You get more into it. The cover is interesting too. There's a gunman riding a big chicken, cacti, telephone poles, handcuffs, flags, satellite dish, dinosaur, cars, tv, and some more dudes. Think about it.
If you love Swollen Member's BALANCE then I think you'll love this one too. Same edge, darkness and
hot rhymers- in their own way of course! Get it in your head.
Band History:
Originally formed in 1999, Brandon and Medium Zach operated as EPL for a few years. In 2002, EPL met up with Adam Garcia - leading to the release of EPL & Snakebird Songs in 2004. Today, Brandon & Medium Zach are called Big Quarters.
Have a Look at the main Kemo site
Click here to play a sample
Review by Urban Maiden
As I sit here and listen to Kemo's: The Blaxican, I have to say… there is something that strikes me even more than the obvious points of admiration. And by obvious points of admiration I mean- consistency with what I have come to expect from him through the music of Delinquent habits, generosity and just plain good buisness savy for sending vanhiphop CDs, posters and other promotional material (because we aren't a glorified, but a grass roots site)… nah, it's above and beyond all that. It's a warm wave of melodies- smooth guitar rifts, latin horns, piano notes… that instantly identifiable voice… it's a feeling of sophisticated hip hop. Not snobby- I didn't say that shit. I said sophisticated- like a mature rapper who has firmly made a decision to make dope music just exactly how he wants it to be.
It is the kind of CD you can relax to, kick back and reflect to, sway and nod to. And if you thinks its all just sound you're trippin', because this cat makes you want to listen' and think (without the pressure of having 'conscienciousness' shoved down your throat). Whether you understand the Sanish verses he sometimes lyrically wonders into or not you will agree, this MC has skillz. Kemo oozes of street realness, that has reached the age of maturity. And with that said- it's basically just fuckin' good hip hop music and it speaks for itself.
In 1998, Statik (James Peterson III), Panek (Cliff Humphreys) and Phillee Blunt (Phil Lee) were humble students at Philadelphia University, brought together by their respective love of hip-hop and, more specifically, hip-hop turntablism and its show-and-prove mentality. Part of the thing with every self-respecting DJ is, "You're not the man until I say you're the man," laughs Statik, expounding on how the trio connected via WPUR, the campus radio station where all three served as both internal staff and show hosts/creators. Not only were he, Panek and Phillee deft turntable craftsmen, Statik says, but "we were on a mission to really make this station happen." And happen it did, certainly for the two years that preceded the official formation of ILLVIBE COLLECTIVE.

OMINUS
His real name ιs John Spithourakis and he was born at 24/7/1979 in Athens, Greece. His rap moniker derives from a latin word and stands for original metaphors illustrate numerous unfolding stories (o.m.i.n.u.s). He began his career in the year 1993 by writing lyrics and performing in open mic sessions at underground hip-hop clubs. His impressive stage presence spread immediately at the hip-hop circles and the creator of the Greek rap label -family- Nikos Vourliotis took him under his wing. Since 1998 he is a member of the label as a recording artist and this is his first record release. He studies librarianship and English & German translation.
DJ "S"
His real name is Stathis Koutsoukeras and he was born at 10/8/1972 in Larissa. He began his career as a dj in 1987. His lasting and impressive presence at the Greek dmc contest has earned him twice the 2nd and 3rd prize in the year 1992-3. Apart from djing, he was occupied with providing music messages to radio stations of his town from 1989 until 1996. Since then he is the official dj of the Greek rap ''goin' through'' in their live concerts. In the last 4 years he is dedicated at hip-hop productions for the family label. His influences derive from soul, jazz, funk and classical music. He is one of the most remarkable dj's that represent this art.