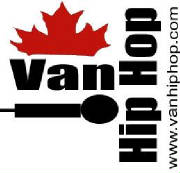 Epix is a dynamic Canadian hip hop producer and emcee. Unlike the majority of artists is his genre, Epix plays many live instruments which helps create his original style. Through years of producing music and spending many hours in his home-based studio, Epix is able to deliver a professional industry sound. He continued to further his production knowledge by obtaining his Recording Arts Certificate at the Arts Institute in Vancouver and by working in Chicago at Pressure Point Recording Studios. Epix also has a natural talent for writing and performing. He has performed with big named artists such as Obie Trice, 2 Live Crew and Young Buck. Along with interviews in local magazines and newspapers, Epix gains exposure through numerous internet sites. Epix also sells his albums
and beats worldwide via the internet. His latest release, Love Me or Hate Me is receiving a great amount of recognition on the streets as well as internet and college radio stations. You will definitely see more of this man in years to come because, Love him or hate him, he is the future.
Contact Epix for beats
contact@epixproductions.com
thanks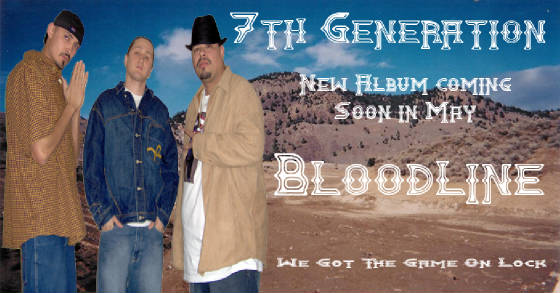 Award Winning Native Hip Hop Group 7th Generation!
Make sure you download your free track
Producer/DJ Combz, grew up on the Kamloops Indian Reserve where he saw the daily effects of poverty, drug related deaths and teen suicide. He moved to Vancouver where he evidently fell into pushing drugs. However, after seeing his friends and family deteriorate from the substances, he vowed to distance himself from that lifestyle. He began working on beats, scratching and dj'ing at local nightclubs before enrolling into the Center of Digital Sound where he studied the business of music and music production. He now runs his own studio and record label Crazy Cutz Records and is raising his first son in a drug and alcohol free environment.

Kasp, grew up on the streets of East Hastings in Vancouver where he witnessed violence, drugs, gangs and prostitution. He lived in poverty and abuse before he was taken from a father who dealt drugs and prostitutes. He began writing music at a young age to release his anger. He managed to leave the city and moved to a small town where he eventually completed his grade 12, helped start the city's first rap crew, and then on to certify himself to work with high-risk and special needs youth. He has maintained complete sobriety for the past five years.

Nikon, grew up on the Gitxsan Reserve where the isolated lifestyle drug him into becoming part of an unhealthy lifestyle where he eventually lost control one night, permanently harming another person in order to protect an abused cousin. He spent the next few years in and out of jail to serve his time, and checked himself into a treatment center where he found his sobriety and ability to sing and drum, and create music. He has gathered teachings from elders and spiritual people from all over the world. He tans and makes the drums that he beats on, beads, and gathers his own medicines to pray with, and shares what he has learned with all who ask.

Award Winning Native 7th Generation

7th Generation has provided workshops and live performances to youth throughout Canada and the United States for the past 5 years. Their music shares their life experiences and how they maintained a positive lifestyle through their lyrics. Their words contain information that does not glamorize street or gang life in any shape or form. They speak of pride for their people and incorporate some traditional teachings; they touch on topics such as teen suicide, and have recently released a song specifically addressing tobacco misuse.

Although the group touches on some major issues and topics, they are a highly energized crew that loves to get crowd participation by having kids come on stage to dance or share their own lyrical talents.

7th Generation is the recipient of the 2001 EDDY Award for Social Change, nominee for the 2002 Canadian Aboriginal Music Awards, recipient of the 2002 BC Media Arts Award and two time winner of the 2004/2005 Scorpion Music Award for "Best Hip Hop group in the Okanagan." They have released three CD's to date and have performed all over Canada and the United States.

They are capable of providing a full 4 hour concert/dance or showcase two or three songs with the inclusion of a traditional hand drummer in a timeframe of 20-40 minutes. We also present a variety of youth workshops suited to the needs of your conference topics and specialize in "Expressing Yourself through Music: a creative and positive approach to addressing substance, physical and mental abuse, poverty, street life and growing up on the "rez""

AWARDS

- 2005 Scorpion Award best Hip Hop Group
- 2004 Scorpion Award best Hip Hop Group
- 2002 Eddy Award for Social Change
- 2002 Nominee for Canadian Aboriginal Music Awards for best Hip Hop Album
- 2002 Innovative New Media Award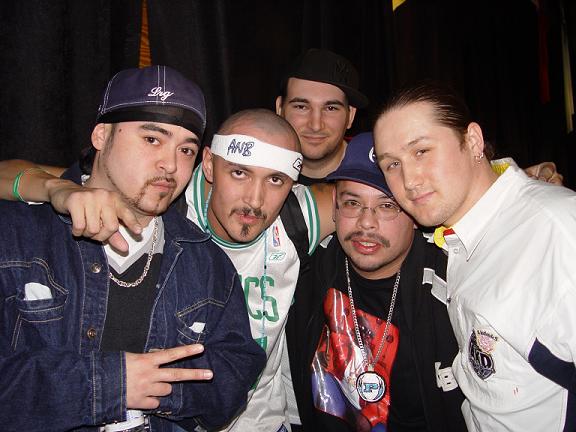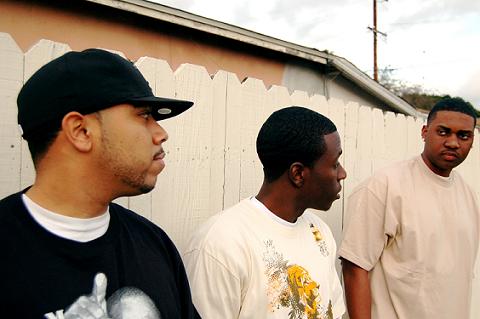 Established in April of 2003 Misfit Entertainment is a Long Beach based company that's trying to break its way into the music industry to gain major status. The company represents great music, hard work and the little man trying to come up. Also everyone involved understands the journey to be traveled before approaching major success. Misfit is a very family oriented establishment, and they treat each other and every fan like family. Misfit consists of two solo rappers JU and EGO and a producer SEGA, Ceo Jamaal "J Smartz" Todd feels real confident in the Misfit soldiers and says they have a lot to give to the streets. A strong believer in the mixtape circuit Smartz plans to obtain the credibility of the streets before moving on and with the genius production of Sega and total package spit fire lyricism of EGO AND JU, Misfit is ready to compete.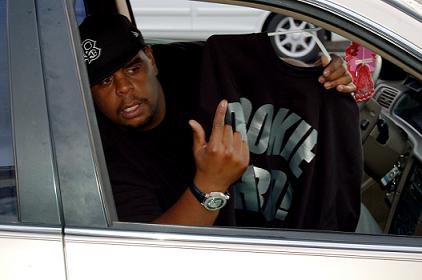 Super Toke Mixtape Vol.1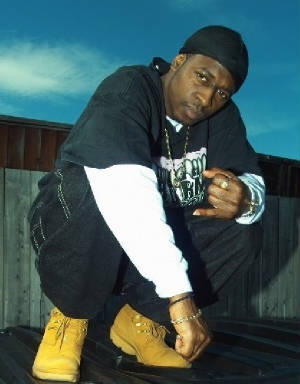 GENERAL
arranger, lyricist, songwriter, performer
"have more than you show and say less than you know"


GENERAL's story begins in the Brown Buildings - Scarborough, Ontario. Growing up in this rough environment, GENERAL absorbed and thrived in his urban atmosphere. Although conditions with his family and peers were often chaotic, GENERAL's tenacious mindset kept him focused and deterred from being swallowed up by the concrete streets. Instead GENERAL's inquisitive mind journeyed into pursuing the art form of music.
Largely due to a family with love for many musical forms including Soul R&B and reggae, music transcended into GENERAL's heart and from a young age he knew he was destined to create and entertain.
He found his first love in hip hop. Getting inspiration from artists such as LL Cool J, EPMD, Ice T, KRS-ONE, NWA, Intelligent Hoodlum (Tragedy Khadafi), Heavy D, RUN DMC, Rakim and Big Daddy Kane, GENERAL started out freestyling with peers in the school yard at the age of nine. Being the autonomous and intelligent young man he was, he formed his first hip hop group called YBLS (Young Black Legal and Smooth) at 13 years old.
Pursuing his solo career in 1995, the name GENERAL was a logical title to illustrate his persona: a born leader, strong willed, courageous, dedicated and empathetic.
Rare is it to hear and relate to an emcee that speaks truly from his heart. GENERAL's lyrics express what he sees, feels and relates to. His songs exemplify the person he is, inside and out, "If you want to know me, just listen to my songs", GENERAL reflects. GENERAL's repertoire speaks on topics including his youth, growing up with his mother, the streets, politics and the love he has for women. Filled with sincere, passionate and prolific lyrics GENERAL was recognized for his songwriting talent as a finalist in the 2005 International Songwriting competition.
Not only does GENERAL have a talent for music, he extended his love for the art form into creating his own entertainment company called BORN HUNGRY ENTERPRISES. BORN HUNGRY ENTERPRISES is a record label and clothing company that sets to establish itself as a leader in the Canadian music industry. "It dawned on me one day that growing up I was always hungry because I had no time eat...sometimes there was nothing to eat. That's how it's always been for me, I've always been hungry. It's a mentality; kinda like a way of life", GENERAL says about the meaning of BORN HUNGRY. GENERAL has been on the move ever since.
GENERAL has released four independently released albums including a 12" vinyl EP "Do 4 Self" (2003). The EP received rave reviews from local and national college DJ's across Canada including getting charted and played on DJ Premier's Future Flavas Show and on POWER 105.5 FM in New York City. His songs "Luv me or Leave Me" (2002), "Come On (2004), "Tha Block" with Jermain Maxwell and Marcus Kane (2005) and "HEY" featuring Lindo P have received commercial radio rotation on FLOW 93.5 FM and Kitchener's THE BEAT 91.5 FM.
GENERAL's independently funded video for the single "HEY / GENERAL's Jewelz" directed by Evan Winter (Blink Pictures Inc.), released November 18th 2005, is currently receiving rotation on MUCH MUSIC and MUCH VIBE!
GENERAL has his own original style. When asked to describe his style he says, "I don't like to say I rhyme with any particular style because then I'd be putting limitations on myself. All I do is put my thoughts in rhyme. Whatever is on my mind at the time, I write it in rhyme." This is why GENERAL would prefer to be called a lyricist. GENERAL continues to excel at his craft laying down quality lyrics over premium production creating an original sound and style. Lot's more to come from GENERAL – keep listening…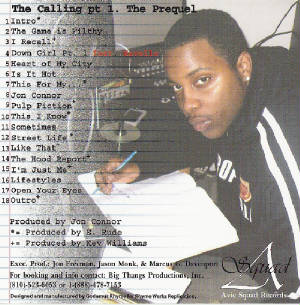 Name:Jon Connor
Subject: The Calling Pt. 1
Affiliation: Avie Squad
Now… let it be heard: we at vanhiphop.com are never going to bring you a featured artist of the month that we don't think is pretty damn dope. But this February 2006, we raise the bar. Jon Connor based outa' Detroit has one of the best, most complete albums of any underground artist yet to pass this way. Can you even keep talent like this underground for long?
J.C. and Big Things Production makes sure the flow of this album is up to par on any level of hip hop music you could ask for. The rhymes are just lip smacking. We honestly could have thrown any of his tracks on the 'featured' page and I'm sure you'de be down with Jon Connor. That's all there is to it, I'm just down for this album. It covers all the bases… it hits home. It's sorta' that streets album that saves you when you're about to lose hope that any good hip hop album could really ever be done again.
He's the homeboy that you just know grew up on hip hop, represents it, takes it to higher levels. And you just want other people to know about him too.
Click the link, buy yourself a copy, support this rising star, tell a friend. That's how we make dreams happen, and that's how we keep J.C.'s talent flowing our way.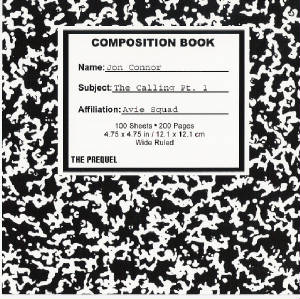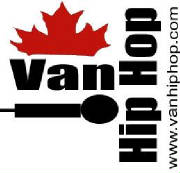 Click here to download Aries "This Right Here" Track
Aries
It is inevitable that this 21 year old, vocalist will bring a freshness to the Hip Hop world, not only as a rap artist and singer, but as a songwriter, as well. Although a newcomer to the game, with her vibrant energy, she definitely exudes a genuine and versatile style and sound. Surrounded by a family of musicians, she developed her voice, at a young age, singing in church and even starting an R&B girl group. She says, "We just knew we would make it to the Apollo one day." Born in Los Angeles and raised in the Bay Area, Aries grew to appreciate and respect the styles of both areas, with influences such as Da Brat, Notorius BIG, Jay-Z, Mary J. Blige, SWV, and many others. At the age of 18, and back in Southern California, Aries, was introduced to the rap game by, Motion, CEO of Icy Records. Looking back, she remembers the first time she spit her first verse and says, "Motion has taught me so much, from how to write my music, to being able to read it." Aries has always stood out of the crowd, so it's only natural that she shine. She has performed at 2 carshow venues one of which had a guest appearance by the NB Riders. She has also performed at high schools, colleges, LA and Houston night clubs (i.e. Mixed Nuts Comedy Club, Universal City's B.B. King House of Blues, and the Toc Bar). Aries is currently working on her third project, a solo album scheduled to be release in February of 2006. Aries has been featured on two of Motion's albums, IcyHot, and his most recent release, Mixed Emotions. Aries and Motion have also collaborated on a mixtape in, 2004, Icy the Mixtape Volume 1. Aries has been featured on many other independent artists albums including songs produced by Houston's very own mixtape killa, DJ KUTZ. Thus far, with her smooth delivery, very impressive lyrics, profound writing skills, and her trendy style, Aries has gained respect from both the male and female audience. Aries plans to take over the female rap game with her unique style, hard work and dedication. Aries plans to do something that no female has ever done before, and that is to bring the West Coast back, "like Snoop Dogg, except in female version."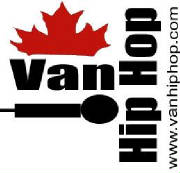 The Alpha Project by Natural Habitz will, most of all keep your headz bangin'. Kind of like the good old days- but with an awareness of what we need in hip hop right now. K.O., Kunstruct and their girl Meda are the perfect trio of tight MCs, spittin' their classic flows across crispy beats and fresh hooks. There's no doubt this album will be the alpha omega of the underground, dominating the speakers when they come through. Vanhiphop has love for this group from Chattanooga, Tennessee- they're funky, clever and will remind you of something a little classic too- just the way you like it. There's no reason you couldn't move something to these joints and work on preventing that coronary baby! We just hope one day their experience earning their rep the old fashion way (through live performances and smart networking) leads to a show up in our city so we can show em' the props they deserve.
Tune into it, support it, be down with it. Join the Alpha Project.
theurbanmaiden
WORDSMITH
The Nu Revolution in Hip-Hop and Rock...
WORDSMITH can claim many areas around the globe as his home. The son of a former Full Colonel in the Army, he has resided in New York, New Jersey, Maryland, Virginia, Georgia, Delaware, Texas, Kansas and even Germany to name a few. After moving around so much, Word found rap as an outlet when he started saving his lunch money each week throughout high school to buy classic tapes from Redman, Big L, Nas, Eric B. and Rakim, Jeru the Damaja, A tribe called Quest, Da Bush Babees, Krs One, Gangstarr, Das Efx, Public Enemy and Ice Cube. His debut albums, Classic Material and Rockstrumentals, will be dropping on the same day in two separate genres of music. The hip-hop album, Classic Material, is somewhat of a throwback to the golden era of hip-hip (92-96) with its lyrical nature (Rakim), its revolutionary sound (Public Enemy), and storytelling roots (Slick Rick). The rock side of the album, Rockstrumentals, is a new age experiment between Rock and Hip-hop. Run-DMC may have done walk this way in the late 90's with Aerosmith, but this album takes a real MC and puts his lyrics to hardcore rock beats. Currently, 730 from HipHopgame.com is dropping Wordsmith's official underground debut The "Statements & Stipulations" Mix Album November 2005…
"Classic Material" is nothing but vintage hip-hop with a classical, yet, Jazzy overtone to its make-up. If I am not telling a story like some of the old greats (Slick Rick, Nas, Kool G. Rap) I'm talking about real life or the essence of being a real lyricist. This album had to flow with a classic feel to it, meaning everything from old school scratches to detailed rhymes can be found throughout the album. I grew up on good MC's and creative songs, but hip-hop is poisoned to the point that you cannot have a hit unless it is a pop crossover. I am trying to change that with this album; along the lines of what Kanye West is doing for hip-hop right now. I wrote this album without thinking of writing singles or certain tracks to please the industry right now. I wrote to expand the game and enlighten the world to what Rap use to be about. I want to bring back rap to the point that every MC is using their mind to create thoughtful tracks. In the future I hope this album will stand the test of time and be remembered as a landmark in rap history. This is Classic Material, hip-hop at its essence.
Initially, Wordsmith was going to release "Classic Material" as one album until the "Rockstrumentals" project came to light. The idea of putting a real MC over hard core/guitar infessed beats was an experiment well worth the challenge. Totally produced by Wordsmith's brother Professa, this rap/rock fusion turned out to be the creative element that can make this one of the most complete projects to this date. Two facts come to light with the release of this album, one being, this is the first rock album created strictly off of a Beat machine with no live bands and Wordsmith will be the first rapper to release Rock/Hip-Hop albums at the same time. The best result for these projects would be to convert the rock listeners into hip-hop fans and the hip-hop listeners into rock fans...
Website: www.wordsmithmusic.com (Official Site)
Contacts:
Wordsmith
6818 Townbrook Drive
Apt. F
Baltimore, MD 21207
(443)-854-4628 (Cell)
(410)- 944-7824 (Home/Fax)
E-mail:
wordsmithmusic@gmail.com
Mixtape Drops this month!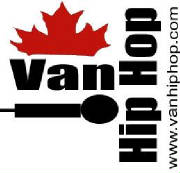 Some of the hottest up and coming talent in Canada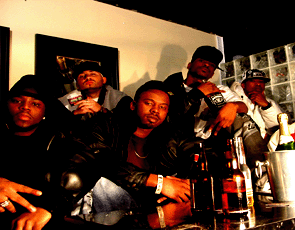 *Night-hoodz alongside One Vizion Entertainment, Dai-lo Recordings, Brag Promo & OutDaBox Creative bring you the highly anticipated City Under Siege Mixtape.City Under Siege mixed by Dj Michael Mayhem ( An Official tour Dj for Missy Elliot & G-Unit), Features Some of the hottest up and coming talent in Canada and Abroad such as KeeLo, Konflict, Switch, K-Buks, Hypnotix, Blizzard, Tryfe, Brovaz Grimm, Mayhem Morearty, Chops & The Black Mafia, Mezziah, Lady J, Andres & DaxFlow. Not to Mention some of ATL's finest including Bone Crusher, Thugg, King David & Angelo as well as exclusives from Germany's Raptile and Industry Heavy Weights Xzibit & Trey Sonngz. You definitley don't want to miss out on the hottest mixtape this year in canada so be sure to get your copy soon. Visit www.night-hoodz.com for information on how to get your copy and other information on Night-Hoodz & Friends. "To be on the edge is life the rest is just waiting"
Bully Mouth
Bully Mouth (Photo: Clockwise from bottom left: Exile,Cap Diesel,J.S. Krillz and Espee) — Mr. Len's group of pure ego and testosterone. The ladies love them and men want to be them.

Who can blame 'em?

From the tri-state, Bully Mouth consists of two emcees, Espee1oner representing Newark and Exile T.C. representing the birthplace of hip-hop, Bronx, N.Y. Also representing Jersey are Bully Mouth's top-notch producers, J.S. Krillz from Newark and Cap-Diesel hailing from Jersey City.

With wit and a no nonsense style, Bully Mouth a.k.a. "The Bully Bunch" have eased their way into constructing instant credibility and defining the true art of being ROCK STARS.

On stage, Espee and Exile exude pizzazz; while J.S. Krillz and Cap-Diesel's beats help your heart beat with every kick. Influenced by everything from rock to baby makin' music, its no wonder shows are filled with half-naked women and a pile of female undergarments are left on stage.

Bully Mouth WILL soon take over the world. It's hip-hop music reconstructed. Bully Mouth — just a name without a definition or a name too defined? They would agree with the latter and so will the rest of the hip-hop world. Say good-bye to Candy Land kids, BULLIES IN THE BUILDING! So take a taste of "Raw Eggz and Spinach" and you'll understand why Mr. Len added "THE BUNCH" to Smacks Records.
Los Tumbados is an up and coming group from North East Los Angeles that, over the course of eight years, has developed a unique and eclectic sound. In their music, one will find a vast amount of musical influences including hip-hop, reggae, classic and alternative rock. Many have called the group the "Mexican Sublime" in reference to the great Long Beach City group Sublime.
Los Tumbados' live performances have been as diverse as their music. They have shared the stage with acts such as The Long Beach Dub Allstars in the House of Blues; Ludacris in Farmington, New Mexico; as well as Ozomatli and the Voodoo Glow Skulls, just to name a few. The band has developed a significant following through their performances up and down the world-renowned Sunset strip, backyard gigs in East Los Angeles, small and large venues throughout the West Coast, and many countrywide shows.
Los Tumbados' first independent release titled "Los Tumbados 213" was completed in the winter of 1999. The bulk of the tracks were recorded and performed with live instruments (electric guitar, live drums, key boards etc). The group's music is spread throughout many underground projects. Most notably, their music was featured in the indepenedent film "Two Coyotes" (found in your local Block Buster video store) the Latino Hip-Hop documentary "Pass The Mic" and many other CD compilations. To date, the underground music video for their 1999 single "Ele-Ah" is still regularly requested on music video shows.
The soon to be released project titled "Tekolotes" will available in stores everywhere on Tuesday, August 30, 2005. Los Tumbados will perform throughout the United States starting in June 2005. Sponsoring for the group is provided by DVS shoe company, Joker Brand clothing and Vato Skate 13.
Contact Info:
Home Website: www.LosTumbados.com (under construction)
Other: www.MySpace.com/LosTumbados
E-Mail/Booking info: LosTumbados@aol.com